Introducing our college
Introducing our College
Our College has a long and distinguished history in serving the people of Norwich and Norfolk. City College Norwich opened in 1891, providing technical training to young people from the City. From relatively humble beginnings, it moved to our main site on Ipswich Road just after WW2. This remains the largest College site, with provision ranging from support for home educated 14-16 year olds to degree level studies being delivered on this campus.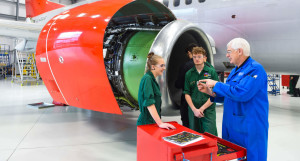 Over the last 10 years the College has opened two other Norwich locations, a vibrant Higher Education Centre located in the heart of the city centre and the International Aviation Academy Norwich, based at Norwich Airport. This unique technical training facility includes a fully functioning Boeing 737 airliner and has allowed us to develop a national profile in the delivery of Aviation Engineering training at 16-19 and Degree level students.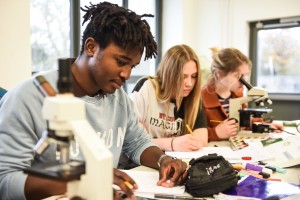 Following a merger in 2017, the College also encompasses Paston College in North Walsham 15 miles north of Norwich. Paston College traces its history back to 1604 when it was founded by the Paston family, a wealthy and important Norfolk family of the time. Prior to merger the College operated as a Sixth Form College and it continues to serve the North Norfolk community with an offer that includes A Levels and technical and vocational qualifications.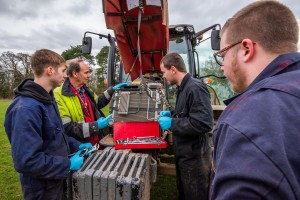 Most recently in 2019, the College merged with Easton College. Easton is at the heart of land-based education for our region where agri-food technology is a critical sector the economy and a major employer. Easton has residential accommodation and offers courses in sport, public services, construction and for students with learning difficulties and disabilities.
As a College Management Team we play active roles in local, regional and national policy developments. The College is one of three national Centres for Excellence in SEND for the Education and Training Foundation, a tangible demonstration of our commitment to being an inclusive College.
Our mission is "challenging minds, inspiring success, securing futures".
---
The College in numbers (2019/20 figures)
31% of all 16 to 19 year old students in Norfolk study with City College Norwich.
More Norfolk 16-19 year olds study at the College than in all the school Sixth Forms in Norfolk combined.
The College accounts for the following proportion of Norfolk's young people studying in key sectors:
69% of English for Speakers of Other Languages students (n=80)
60% of Hospitality and Catering students (n= 170)
57% of Construction students (n= 620)
54% of Art and Design students (n= 390)
50% of maths and English GCSE students (n=2,460)
44% of Agriculture, Horticulture and Animal Care students (n=450)
43% of Hair and Beauty students (n= 230)
40% of Leisure, Travel and Tourism students (n= 80)
37% of Childcare students (n= 160)
33% of Health and Social Care students (n= 390)
32% of Engineering and Transportation students (n= 350)
28% of Performing Arts students (n=150)
20% of Media and Communication students (n=120)
Largest Apprenticeship Provider to Norfolk
(1,520 Apprentices in 2019/20)40% (n=610) of CCN apprentices are aged 16-18
2nd largest provider of Adult Learning to Norfolk (1,120 students in 2019/20)
42% of Norfolk Adult Science and Maths students (n= 270)
3rd largest provider of Higher Education in Norfolk (700 Norfolk students in 2019/20)
24% of CCN HE students from wards considered "low participation"
63% CCN HE students are mature students (aged over 21)