Senior roles at City College Norwich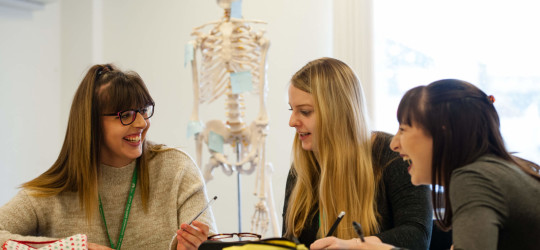 Help shape our future
Two roles which will help us meet our ambitions, grow our offers and deliver the very best for students, staff and stakeholders at City College Norwich, Easton College and Paston College.
City College Norwich is appointing two Vice Principals to lead key aspects of our work. The College is one of the largest in the country, operating from three main campuses in Norfolk and serving students from right across Norfolk and Suffolk. These roles will help us build on the success of the College and allow us to grow and evolve in the future.
Our culture is what makes our colleges succeed. From students to senior leaders, our Ways of Working help shape every aspect of our teaching and learning and the broad range of support which helps us deliver consistently strong results.
Rated 'Good' by Ofsted in October 2021, City College Norwich, Easton College and Paston College deliver a huge range of courses across the whole spectrum from essential skills to postgraduate teacher training. Our support for students with high needs once again earned an 'Outstanding' Ofsted rating.
Our colleges have seen significant capital investment over the past few years, from our Digi-Tech Factory which opened last autumn to a new Advanced Construction and Engineering Centre, which will open later this year. Our financial health is consistently rated as good.
---
Where are we now and what comes next?
---
The roles
Vice Principal for Curriculum and Quality
Leading the full range of the Colleges' curriculum offers, from 16-18 provision to Higher Education, this role will provide a real opportunity for the successful candidate to enhance the impact the Colleges' provision has on individuals, businesses and the communities that the College serves. If you have a clear vision of how to develop innovative curriculum, the experience of managing complex internal and external quality assurance processes and a passion to improve the quality of teaching and learning, this role could be right for you.
The College already has a remarkable breadth of curriculum offer but is ambitious to continue to make an even more significant contribution to the development of technical skills in our region and to ensure that every young person in our community can succeed. Working alongside a talented team of curriculum leaders and managers, the successful candidate will challenge us to fully realise our mission of "challenging minds, inspiring success and securing futures".
Job description and person specification
---
Vice Principal for Student and College Services
We are ambitious to continually enhance the services we provide to students, stakeholders and our staff to ensure that the student and employer experience is excellent in all aspects. This new Vice Principal role will span the responsibilities of student services (safeguarding, wellbeing, IAG, library and residential services), registry (MIS, exams, admissions, customer contact services), Curriculum Services (support for students with SEND, including our role as national Centre for Excellence for SEND and the Nursery) and marketing and communications.
Within this span of responsibility you will lead teams who are experts in their respective areas, to deliver the very best customer journeys and experiences for all service users, whether they be students, apprentices and employers or the wider College staff team. In addition, this role will lead on the College's engagement with and analysis of the Student Voice from all provision types, ensuring the College is responsive to the needs of the students, apprentices and employers we serve. This will include supporting the work of the Students' Union President, an elected student representative who sits on the senior management team of the College.
The successful candidate will have a passion to improve services and an extensive background in some or all of the areas of responsibility.
Job description and person specification
---
Salaries: £85,000
Closing date: 9am Monday 4 July
Selection process and interviews: Thursday 7 and Friday 8 July
---
Find out more
Do you have questions about the role or working for the College? If you'd like an informal and in-confidence conversation with Jerry White, who takes over as Principal on 1 August, please contact him directly.
Tel: +44 (0)1603 773049 Mobile: +44 (0)7583 773429 Email: Jerry.White@ccn.ac.uk
---
How to apply
Apply for the VP Curriculum and Quality role