We're looking for a new Principal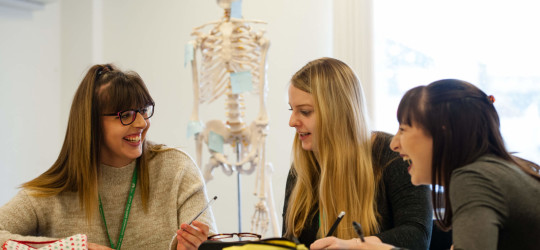 Our Principal Corrienne Peasgood OBE is retiring at the end of this academic year. We're looking for the next leader of one of the region's biggest and most diverse education providers.
Our culture is what makes our colleges succeed. From students to senior leaders, our Ways of Working help shape every aspect of our teaching and learning and the broad range of support which helps us deliver consistently strong results.
Rated 'Good' by Ofsted in October 2021, City College Norwich, Easton College and Paston College deliver a huge range of courses across the whole spectrum from essential skills to postgraduate teacher training. Our support for students with high needs once again earned an 'Outstanding' Ofsted rating.
Our colleges have seen significant capital investment over the past few years, from our Digi-Tech Factory which opened last autumn to a new Advanced Construction and Engineering Centre, which will open later this year. Our financial health is consistently rated as good.
---
Where are we now and what comes next
---
The role
Challenging minds, inspiring success, securing futures
City College Norwich is a highly successful, inclusive, and innovative college delivering life-changing learning to around 10,000 students, apprentices, and adult learners each year.
Underpinned by our focus on excellence in teaching and learning, superb facilities, and collaborative ethos, we are a trusted leader of further and higher education for learners and employers throughout Norfolk and the wider region.
Our diverse curriculum offer has evolved and expanded through mergers with Paston College in 2017 and Easton College in 2020. We were rated 'Good' by Ofsted in October 2021, and 'Outstanding' for our high needs provision, and our financial health has consistently been rated as good.
Our current post-holder is retiring after 10 years in the role and the appointment of a new Chief Executive Officer and Principal provides an exciting opportunity for a dynamic senior leader to work with governors to shape the next stages of our development.
You will have a clear vision of what a culture of excellence looks like, be capable of inspiring diverse teams of people, and have a strong commitment to strategic partnership working. Alongside a strong track record of enabling outstanding outcomes, you will have a passion for working inclusively, with an unwavering focus on the needs of our students and the communities we serve.
Salary: competitive
Interviews will take place on 23rd and 24th May.
Job description and person specification
---
Find out more
Do you have questions about the role or working for the College? If you'd like an informal and in-confidence conversation with Principal Corrienne Peasgood or Chair of Governors Andrew Barnes please contact Director of Governance Jodie Mitchell (+44 (0)1603 773372) who will facilitate.

---
How to apply
Applications should be made via our website.