Senior roles July 2021
Why we're recruiting now
The past few years have seen significant change and growth at City College Norwich. We've merged with two other FE and Sixth Form providers in Norfolk and our structures have changed too, reflecting new ways of working for the colleges and with the rest of the education sector. Alongside this we're saying goodbye to some senior and long-serving colleagues who are retiring. If you're ready to take the next step in your education leadership career, we may have the right opportunity for you.
---
Introducing our College
Our College has a long and distinguished history in serving the people of Norwich and Norfolk. City College Norwich was first created in 1891 to provide technical training to young people from the City. From relatively humble beginnings, it moved to its main site on Ipswich Road just after WW2 and this remains the largest College site, with provision ranging from support for home educated 14-16 year olds to degree level studies being delivered on this campus.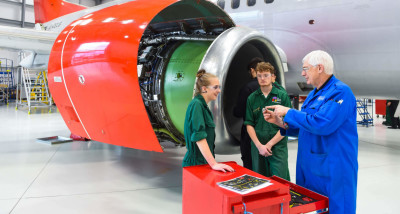 Over the last 10 years the College has opened two other locations across the City, a vibrant Higher Education Centre located in the heart of Norwich city centre and the International Aviation Academy Norwich, based at Norwich Airport in the north of the City. This unique building, housing technical training facilities including a fully functioning Boeing 7373 airliner, has allowed the College to develop a national profile in the delivery of Aviation Engineering training to both learners aged 16-19 and at Degree level. Close employer partnerships such as those with KLM UK Engineering have provided a unique and inspiring learning environment for students.
Following a merger in 2017, the College also manages Paston College in North Walsham 15 miles north of Norwich. Paston College traces its history back to 1604 when it was founded by the Paston family, a wealthy and important Norfolk family of the time. Prior to merger the College operated as a Sixth Form College and it continues to serve the North Norfolk community with an offer that includes A Levels and technical and vocational qualifications.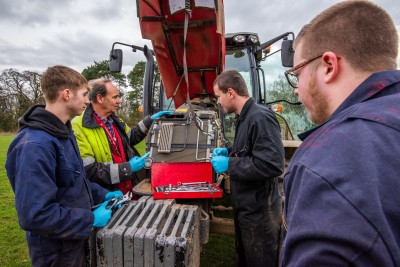 Most recently in 2019, the College took over the operation of the Easton College campus in Bawburgh, just west of Norwich. Beginning life as the Norfolk Agricultural College in the 1960s, Easton is at the heart of land-based education for our region where agri-food technology is a critical sector the economy and a major employer. Easton has residential accommodation and offers courses in sport, public services, construction and for students with learning difficulties and disabilities.

As a College Management Team we play active roles in local, regional and national policy developments. The College is one of three national Centres for Excellence in SEND for the Education and Training Foundation, a tangible demonstration of our commitment to being an inclusive College.
Our mission is "challenging minds, inspiring success, securing futures".

---
The College in numbers (2019/20 figures)
31% of all 16 to 19 year old students in Norfolk study with City College Norwich.
More Norfolk 16-19 year olds study at the College than in all the school Sixth Forms in Norfolk combined.
The College accounts for the following proportion of Norfolk's young people studying in key sectors:
69% of English for Speakers of Other Languages students (n=80)
60% of Hospitality and Catering students (n= 170)
57% of Construction students (n= 620)
54% of Art and Design students (n= 390)
50% of maths and English GCSE students (n=2,460)
44% of Agriculture, Horticulture and Animal Care students (n=450)
43% of Hair and Beauty students (n= 230)
40% of Leisure, Travel and Tourism students (n= 80)
37% of Childcare students (n= 160)
33% of Health and Social Care students (n= 390)
32% of Engineering and Transportation students (n= 350)
28% of Performing Arts students (n=150)
20% of Media and Communication students (n=120)
Largest Apprenticeship Provider to Norfolk
(1,520 Apprentices in 2019/20)40% (n=610) of CCN apprentices are aged 16-18
2nd largest provider of Adult Learning to Norfolk (1,120 students in 2019/20)
42% of Norfolk Adult Science and Maths students (n= 270)
3rd largest provider of Higher Education in Norfolk (700 Norfolk students in 2019/20)
24% of CCN HE students from wards considered "low participation"
63% CCN HE students are mature students (aged over 21)

---
The roles
---
Introducing our community
City College Norwich serves students from across Norfolk and North Suffolk. We are fortunate to learn and work within a wonderful county and there are so many reasons for considering living and working in this area. Norwich is regularly listed as one the best places in the UK to live (The Times, 2021) and is second in the list of best UK Towns to raise a family. Norfolk boasts wonderful countryside from the Broads National Park to some of the most amazing beaches in the country.
The county boasts a huge variety of communities to live within from small rural hamlets to urban centres and a wonderful array of places to eat, drink and shop. The county boasts a vibrant cultural scene including theatres large and small, museums locally important and internationally important and galleries and festivals to suit all tastes. And we can throw in a Premier League Football Club for good measure.
---
The wider benefits of working for CCN
The benefits of working for City College Norwich extend way beyond the salary.
Both City College Norwich and Norfolk Educational Services are Disability Confident Employers and Living Wage employers demonstrating our commitment to inclusion and ensuring all colleagues receive an appropriate wage.

In addition to the professional rewards and opportunities of working in a dynamic educational environment, eligible employees can take advantage of the following benefits:
Pension Scheme - Local Government Pension Scheme (LGPS) and Teachers Pension Scheme (TPS) are available and are amongst the very best final salary schemes available from any employer.
College Rewards - A reward scheme providing discounts and/or cashback for purchases from a wide selection of retailers (in store and online). You can save money on everything from grocery to holidays simply by being an employee of the College.
Company Paid Health Plan – You can opt into our free health plan scheme which will reimburse you for a variety of healthcare costs from dental check up, to a new pair of glasses. You can opt to contribute a little more and increase the benefits you can receive and / or included family members on the plan. This service also provides access to counselling services and 24 hour a day advice
Firstcare Sickness Reporting - Centralised sickness absence reporting providing 24 hour access to a nurse for medical advice and guidance
Eye Care Vouchers for VDU eye tests - Specsavers vouchers provided in advance of the appointment covering the eye test cost and discounts on a selected range of glasses
Access to Occupational Health Services - Services include on site appointments (accessed via HR Services), referrals to Doctors when required, wellbeing information/training sessions, drop in clinics, flu jabs, health screening
Cycle Solutions Cycle-to-Work Scheme - This scheme allows you to hire a bike via salary sacrifice. The full cost of the bike will be split across 18 months and deducted from your gross salary.
Discounts and promotions for Solutions Spa, Solutions Hair Salon and Debut Restaurant at City College Norwich
Bus pass discounts - Staff discount rates for monthly, 3 monthly and annual bus passes
Travel loans - Interest free loans to purchase bus, rail and park and ride season tickets
Nursery – The College operates a great on-site nursery at the Ipswich Road campus with preferential rates for staff members children. The Nursery is rated "Good" by Ofsted and provides a wonderful environment for children to grow and learn.
---
Find out more
Do you have questions about these roles or working for the College? If you'd like an informal conversation then we'd be keen to talk. To make an appointment for an 'in confidence' conversation with a senior member of the College Management Team, please complete the short form below and we will get back to you. Alternatively, contact Principal Corrienne Peasgood or Deputy Principal Jerry White.