Primary Teacher, Apprenticeship Standard, Level 6
Level
Level 6

Duration
1 year

Start Date
September 2022

Venue
CCN-Main Campus

Course Code
E0234
Start Date
September 2022, Apprenticeship
Summary
Teaching Assistants work in Primary, Special and Secondary education across all age ranges
encompassing special educational needs and emotional vulnerabilities. The primary role of the Teaching Assistant is to support the class teacher to enhance pupils' learning either in groups or individually, ensuring pupils understand the work set, know their learning objectives and stay on task in order to make progress.
Course Content includes:
11 Mandatory units must be achieved and some optional units to be discussed with the assessor.
Mandatory Units include:
Communication and professional relationships
Schools as organisations
Supporting learning activities
Promote children and young people's positive behaviour
Develop professional relationships with children, young people and adults
Promote equality, diversity and inclusion in work with children and young people
Support assessment for learning
Support children and young people's health and safety
And more.
You will complete Level 3 Support Teaching & Learning in Schools and Colleges as part of this Apprenticeship.
This Apprenticeship will involve college attendance and off the job training.
You will also develop your knowledge, skills and behaviours.
You need to have an employer to support your Apprenticeship and be employed in a relevant job role.
The typical length of this Apprenticeship course is 18 months.
Contact our Apprenticeship Team to find out when our next course start date is.
If you already have an employer for your Apprenticeship, or would like more information on how to find an Apprenticeship, please click Apply Now.
If you are an Employer who is looking to recruit an Apprentice or already have someone you would like to enrol onto the Apprenticeship course, please contact our Apprenticeship Team on 01603 773365 or email EmployerPartnerships@CCN.ac.uk to discuss next steps.
Entry Requirements
Potential candidates should:
Have already achieved 5 GCSEs, including Maths and English, Grade C or above or 4/5 (new grading). Some employers will accept other relevant qualifications and experience, including a relevant Level 2 qualification.
Be willing to reflect on their own practice, learn, and apply that learning in the workplace
Be able to relate well to children, young people and adults
Show enthusiasm to work with children and young people and be working for a minimum of 30 hours per week and a maximum of 48 hours – this is inclusive of any study days at college
Be numerate and literate
Have a suitable level of physical fitness to perform some aspects of the job roles
Be willing to undergo a Disclosure and Barring Services (DBS) check
It is unlikely that individuals with no, or limited experience within the sector would commence on this Advanced Apprenticeship.
In order to enrol onto an Apprenticeship, you need to be employed in a relevant job role and undertake a range of tasks which would enable you to complete the Apprenticeship qualification.
Learning Outcomes
For the full Apprenticeship, candidates will complete:
Level 3 Diploma in Specialist Support for Teaching and Learning in Schools (competence and knowledge element) through CACHE
Functional Skills in English at Level 2 and Maths at Level 2 and ICT at Level 2
Employment Rights and Responsibilities (ERR)
Objective
You will learn about your rights and responsibilities as an employee and those of the employer with guidance from your work based assessor.
Assessment
Training and assessments are delivered in the workplace and in college. Apprentices will be required to attend college-based sessions as part of their training, whilst also completing off-the-job training in the workplace. You will also complete assessments and observations in the workplace.
You will need to complete Level 2 Maths and English before End Point Assessment.
At the end of the Apprenticeship you will complete an End Point Assessment which will comprise of:
Practical Observation (2 hours)
Question and Answer (15 minutes)
Professional Discussion supported by a portfolio of evidence (90 minutes)
Progression
As well as ensuring full competency as a Teaching Assistant, this standard provides a foundation for potential progression into a number of career paths in the Educational sector including Higher Level Teaching Assistant, Assistant Teacher and Teacher.
Career Progression
Career or academic progression may include continuation, development or promotion at work or within the business sector, progression onto an Advanced Apprenticeship, Higher Apprenticeship or higher education.
Fees
Apprenticeship course fees are subject to the age of the apprentice, the payroll of the employer and the number of employees. Course fees are paid by the employer and not the apprentice. Employers who take on an apprentice aged between 16-18 years old, or with an Educational Health Care Plan, will receive an Incentive Payment to help cover their costs. To discuss Apprenticeship course fees, employers should contact the Apprenticeship Team on 0800 328 3616 or email EmployerPartnerships@ccn.ac.uk
For more information on recruiting an apprentice or if you would like to train your existing staff please contact our Apprenticeship Team on 0800 328 3616 or email EmployerPartnerships@ccn.ac.uk
Latest News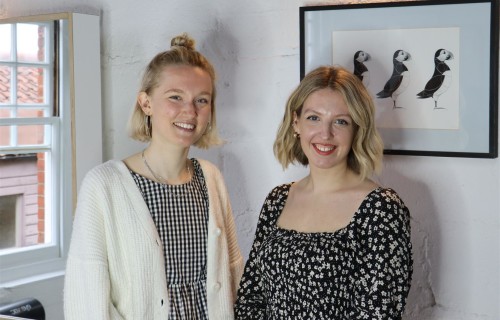 Apprentice hairdressers whose training was heavily disrupted by the pandemic have passed their qualification with flying colours.
Read more
14th June 2022