Level
Level 2

Duration
1 year

Start Date
September 2023

Venue
CCN-Main Campus

Course Code
B0365
Start Date
September 2023, Part Time
Summary
GCSE Sociology helps to gain knowledge and understanding of key social structures, processes and issues through the study of families, education, crime and deviance and social stratification. Students will develop their analytical, assimilation and communication skills by comparing and contrasting perspectives on a variety of social issues, constructing reasoned arguments, making substantiated judgements and drawing reasoned conclusions.
By studying sociology, you will develop transferable skills including how to:
investigate facts and make deductions
develop opinions and new ideas on social issues
analyse and better understand the social world.
Entry Requirements
Applicants should have GCSE English and mathematics at grade D/3 or above to apply for this course and need to be prepared to provide evidence of achievement in these subjects.
All candidates will be given a Digital Skills assessment and will be offered a short course to improve this area of their knowledge if this is deemed suitable.
Learning Outcomes
The course covers five areas of study:
Families
Education
Crime and deviance
Social stratification
Sociology research methods
Students are encouraged to:
apply their sociological knowledge, understanding and skills to develop an understanding of relationships and tension between social structures and individual agency within a UK and global context
critically analyse information and use evidence to make informed arguments, reach substantiated judgements and draw conclusions
use and apply their knowledge and understanding of how social structures and processes influence social control, power and inequality
use sociological theories to understand social issues, debates, social changes and continuities over time
understand and evaluate sociological methodology and a range of research methods
use sociological terminology appropriately and make connections between the key areas of subject content.
Objective
The course is intended for those wishing to continue to study sociology at a higher level, pursue careers in fields such as health, education, marketing, media or human resources or simply to learn more about the subject. It also can be partnered with our GCSE Psychology course.
You will need to have a mature approach to study and be highly self-motivated with the willingness to work hard both independently and in small groups and take part in discussions.
This is an intensive course of study and attendance at teaching sessions is vital for a successful outcome, as is completion of homework and independent study.
Assessment
Two external exams in May/June. Details can be found from the exam board: AQA - GCSE Sociology, 8192
Progression
Students may go on to an Access to Higher Education course at City College Norwich or Easton college (such as our Access to HE Humanities & Social Sciences course or Criminal Justice and Policing). This qualification can also be used for future Higher Education study as some university courses will required require a GCSE in a social science subject at grade C or above.
Career Progression
A GCSE in a social science subject is very useful in getting started in a wide variety of careers such as advice and guidance, community development, housing, marketing, police services, social work, civil servant, family support worker, aid worker as well as a wide range of career fields. These will include police and probation services, local and central government, social and market research, charitable, counselling and voluntary organisations, public relations, journalism and communications, media and marketing etc.
Fees
This course is subject to fees. Please contact the Advice Shop on 01603 773773 for information.
Latest News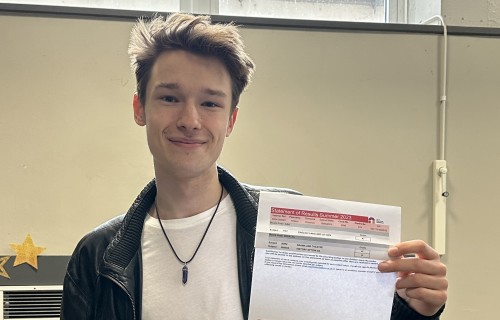 City College Norwich students have been celebrating impressive results in their A Levels, T Levels and other technical and vocational qualifications.
Read more
17th August 2023