Level
Other

Venue
CCN-Main Campus

Course Code
H0503
Summary
Ever fancied drawing but not sure where to start? Then this course is for you. Learn from scratch the key skills in drawing that will get you started and designed to help you build your confidence to start and continue drawing.
You will be encouraged to experiment with different media, including pencils charcoal, pastel and inks. Observational drawing is key to the course as we draw from real life to develop our skills in shape, proportions, tone, line, colour and mark-making in this 6 week course.
Week 1 – Determining Shape and Proportion
Week 2 – Comparative Proportions and Negative Space
Week 3 – Scale and viewpoint
Week 4 – Tone, light and dark
Week 5 – Colour and exploring limited palettes
Week 6 - Mark-making, line and mixing materials
Day - Mondays 6-8pm
Entry Requirements
No Entry Requirements
Latest News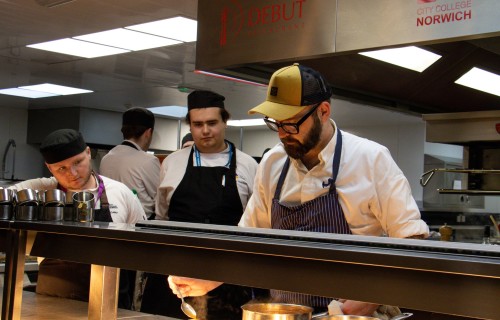 Our Hospitality and catering students had an evening to remember when they worked alongside top chef Richard Bainbridge in the Debut Restaurant.
Read more
11th May 2023