T Level Hairdressing, Beauty & Barbering
Level
Level 3

Duration
1 year

Start Date
September 2023

Venue
CCN-Main Campus

Course Code
A0599
Start Date
September 2023, Full Time
Summary
The purpose of this T Level qualification is to ensure that students have the knowledge and skills needed to progress in skilled employment or higher education. This qualification provides opportunities to acquire practical technical skills and essential underpinning knowledge. The level 3 technical qualification in Hairdressing, Beauty & Barbering has the following components:
A technical qualification, substantial industry placement, English & Maths and other occupational specific requirements where essential for entry to skilled employment.
Why Our College?
Real Salon Environment
Our training salons are open to the public which gives you the chance to experience working on real clients before you start work.
Entry Requirements
5 GCSEs at grade 4 or above, in addition to GCSE English at grade 4 or above.
Candidates will be invited to attend an informal interview and provide a reference.
(Please note the Beauty Pathway will commence in September 2024)
Learning Outcomes
Occupational specialism: Hairdressing
Analyse, shampoo, treat and condition hair & scalp.
Use technical, precision and bespoke cutting techniques to create a variety of fashion looks.
Use a range of styling & finishing techniques to create a variety of fashionable looks.
Colour hair and carry out bespoke colour conversions.
Provide smoothing and straightening services.
Plan create and promote a collection of hair looks.
Occupational specialism: Barbering
Analyse, shampoo, treat and condition hair & scalp for barbering services.
Use a range of creative & precision barbering techniques to create a variety of styles including fashion forward trends.
Cut facial hair into shape using precision techniques.
Provide shaving, bespoke skin analysis and treatments.
Provide Lightening , toning and colouring grey hair services.
Plan create and promote a collection of barbering looks.
The core knowledge and understanding is assessed through an examination and core skills through a practical employer-set project.
The core knowledge and understanding focuses on the students' knowledge and understanding of contexts, concepts, theories and principles relevant to the T Level. This could include, where appropriate, assessment of knowledge and understanding relevant
to the route and the pathway.
The employer-set project provides the opportunity to develop and apply a minimum range of core skills important for employability.
Objective
Communication: e.g. providing advice and guidance to clients; managing their expectations; having difficult conversation; adapting behaviour according to client feedback and characteristics; gaining informed consent. Using a range of media, including in person, telephone, digital communication.
Working as part of a team; e.g. to support a positive client journey; creating a successful business; working within own responsibility, escalating where appropriate.
Undertaking research: e.g.; new and emerging trends and career opportunities.
Reflective practice: e.g. review performance, identifying ways for improvement.
Business and commercial awareness: e.g. recognising how business and commercial awareness impacts on solutions; promote sales and additional treatments to enhance the client experience and improve sales and retention; promoting and building up a business on behalf of an employer using a range of marketing techniques; costing and pricing of services; day-to-day running of a business; presenting self (e.g. as a brand ambassador)
Demonstrate compliance with appropriate regulations. e.g. develop solutions that concur with legal and industry requirements and
appropriate business context.
Assessment
Students will be assessed by External Examination, An employer set project and synoptic practical assignments
Progression
On successful completion students can progress onto Apprenticeships, High education or Employment within the hairdressing, Beauty or Barbering pathways.
Career Progression
The Hair and Beauty industry is a vibrant, dynamic and creative sector offering fantastic employment and training opportunities. This sector alone employs nearly a quarter of a million people and is worth over £6 billion to the UK economy.
There are a wide variety of jobs for qualified hairdressers, including salon and spa work both in the UK and abroad. Hairdressers also work in hotels, on cruise liners, in hospitals and health clubs. With further experience, they can also become salon owners or follow careers in hair design for photography and fashion, teaching and training and work for manufacturers of hairdressing products as a technical advisor. Students could also look at becoming self-employed.
For further information check the National Careers Service website for; Hairdresser job profile, Hairdressing and Beauty Industry Authority (HABIA)
Fees
If you are a UK or home fee status student and aged 16-18 on the 31st August before the start of your course, tuition fees are free. If you are aged 19 and over please contact the Advice Shop. Please check our Finance pages for information on loans, bursaries, fee information and student travel offers that are available
Why Our College?
Real Salon Environment
Our training salons are open to the public which gives you the chance to experience working on real clients before you start work.
Latest News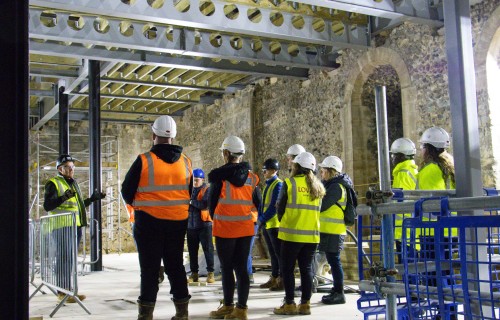 Our HND Construction and the Built Environment students have been given a close-up look at the multi-million pound project to transform Norwich Castle.
Read more
6th December 2022