Academic Progression GCSEs Navigate
Level
Level 2

Duration
1 year

Start Date
September 2023

Venue
CCN-Main Campus

Course Code
A0318
Start Date
September 2023, Full Time
Summary
This course is ideal for you if have finished year 11 without the GCSE results you hoped for, have not taken GCSEs before, or need to increase the number of GCSEs you already have in order to be able to progress to the next level of study.
Navigate is an intensive one-year, full-time programme of study. Our friendly and supportive staff will help you build and develop the skills and knowledge you need to achieve grade 4 and above in your chosen subjects.
There is a range of GCSE options you can choose from, including:
English Language
Maths
Psychology
Biology / Physics or Chemistry
Citizenship Studies
History
Sociology
In addition to your GCSE subjects, you will take part in a programme of Enrichment which will enable you to develop some of the skills necessary to become a more efficient and effective student, including trips and visits; visiting speakers; experience of work; personal development; study skills and the opportunity to explore your chosen progression routes for the following academic year.
Entry Requirements
3 x GCSEs Grade 3 including English and Maths.
You will need to demonstrate a commitment to classroom-based academic study and be willing to undertake independent study outside of the classroom.
Applicants who have never taken GCSEs before will need to undertake assessments at interview where you must demonstrate a proficiency in English (reading, writing and spoken language) and maths at a suitable level to be able to access the demands of the GCSE programme of study in one year.
Suitability for the course will be assessed at interview through discussion and activities.
Assessment
Assessment for GCSEs is through external end of year examinations.
Progression
Academic Progression Navigate students successfully progress onto A' Levels or vocational Level 3 courses, Apprenticeships or Level 2 vocational courses.
Career Progression
Gaining GCSEs allows students to gain employment and apprenticeships in a wide variety of areas.
Fees
If you are a UK or home fee status student and aged 16-18 on the 31st August before the start of your course, tuition fees are free. If you are aged 19 and over please contact the Advice Shop There will be costs for equipment, uniform and trips. These include costs for text books, stationery and subject relevant materials. Trips can be organised as part of the for study and enrichment purposes which will be subject to cost. For example a trip to see a show at Theatre Royal for GCSE Drama the students will be expected to pay the price of the ticket. Compulsory visits are announced with enough notice to help secure any additional finance needs as required. Please check our Finance pages for information on financial support, fee information and student travel offers that are available. Alternatively please contact the Advice Shop.
Latest News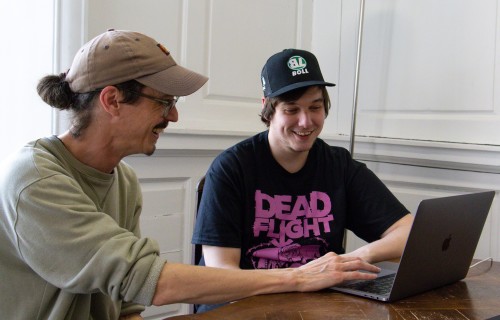 Young people working with MINT have created animations inspired by the 250-year history of the Norfolk & Norwich Festival.
Read more
31st May 2023